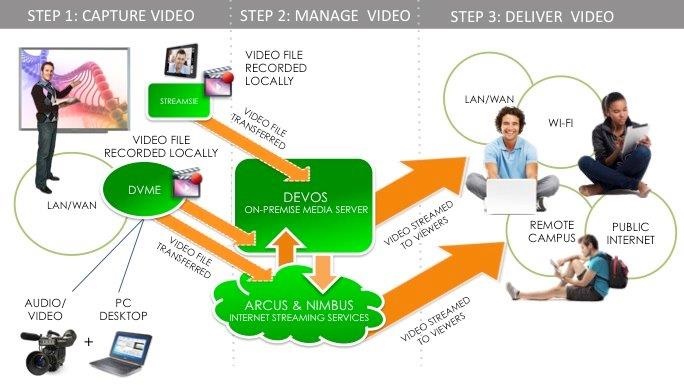 Exciting News!
Whether you want to flip your classroom, make a quick review video, or record your entire lesson, you can use TechSmith Knowmia! Knowmia gives anyone the ability to record and share videos securely from anywhere. It includes an easy-to-­use desktop and mobile recorder, built-­in quizzing and analytics, plus hosting to manage videos and images effectively. Faculty and staff who already have the Camtasia application now have a place to store and manage their class videos.  TechSmith Knowmia is also a great tool to enhance student- teacher -student engagement in the online or hybrid classroom.

---
Training
TechSmith Knowmia Training Tutorials:
Access Training tutorials here.
---
Login Information
Log-in and activate your TechSmith account by navigating to the OneSpelman Portal >> select the Faculty tab  >> then scroll down the right navigation panel to select TechSmith, or paste the URL for Spelman's TechSmith Knowmia account ( https://spelmancollege.techsmithrelay.com) in to your browser.
What is the default username and password for Faculty/Staff & Students?
Use your OneSpelman credentials (the default is your network account username with @spelman.edu) to log in to TechSmith Knowmia.
username@spelman.edu(example: asmith1@spelman.edu)

---
How to Use?
Once you have activated your TechSmith Knowmia account, take a moment and view the Getting Started tutorials for TechSmith Knowmia.  Also view how to add TechSmith Knowmia media to a Moodle course.  These tutorials will give you an overview of what TechSmith Knowmia is, how to use TechSmith Knowmia, and how to integrate TechSmith media into your courses.
You can download the TechSmith Desktop Recorder once you are signed into TechSmith  Knowmia.  To download the TechSmith Knowmia Desktop Recorder you will need to be logged into your TechSmith Knowmia account. From within your account, you will want to click on the Download Recorder button, located on the far, right-hand side of the page.

Once the TechSmith Knowmia Recorder is installed.  You can sign into the Recorder with the same credentials you used to create your TechSmith Knowmia account and begin creating videos! For more information on how to use the TechSmith Knowmia Recorder, click here.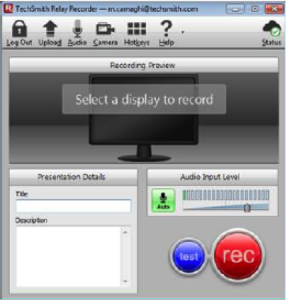 In addition, you can also download the TechSmith Fuse Mobile app (from the App Store, Windows Store, or Google Play). For more information on how to install the TechSmith Fuse Mobile app, click here.
Editing Your TechSmith Knowmia Profile
To change your TechSmith Knowmia profile picture, login credentials, and display name, you can go to myaccount.techsmith.com, and login with your TechSmith Knowmia credentials.


---
How to get support for TechSmith Knowmia
You can find additional TechSmith Knowmia resources here. Should you require any assistance with Spelman's TechSmith Knowmia software, please contact the STS Service Desk at stsservicedesk@spelman.edu, or 404.270.5400.  Keyword: TechSmith Knowmia
Getting Started
A series of short tutorials that will get you up and running with TechSmith Knowmia.
Tips and Tricks
Pro tips help you get the most
out of your TechSmith Knowmia experience.
Other Tools
Learn how to use other software tools with
TechSmith Knowmia.