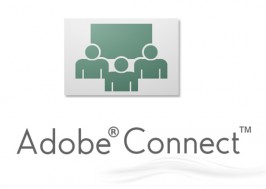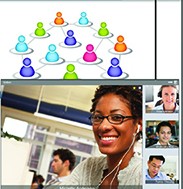 Adobe Connect provides an excellent platform for enhancing blended pedagogies, collaboration, and online learning. The application provides flexibility in delivering rich content including streaming audio, video, and slide show presentations. It also offers many tools for collaborative instruction, such as a whiteboard, document sharing, and live polling. Furthermore, it features easy access to meetings from a desktop or any mobile device, and allows participants to interact with each other in real-time to collaborate on presentations, or share information.
Click here to learn more about supported Web & Video Conferencing options at Spelman.
How do I host a meeting?
Faculty can contact their departments for access and training, or one-on-one training sessions can be scheduled by submitting an Instructional Technology Request found here.
note: Adobe Connect is designated to facilitate teaching and learning on campus and is one of many web conferencing solutions on campus. Staff can contact the MIT Service Desk or their departments for additional web conferencing options.
How many attendees can attend the meeting?
Our license accommodates 100 attendees to each meeting.
What equipment do I need to host an Adobe Connect meeting? 
Windows or Mac computer
Internet Connection (broadband is best)
Microphone and speakers (built-in or USB headset) – Most computers have built-in microphones and speakers, but you will receive much better audio quality if you use a headset.
Webcam for video conferencing (optional)
Mobile Devices: tablets, iOs, Android, Blackberry and Windows platform
What are some video conferencing tips and best practices?
If you are a presenter, ensure you have closed all sensitive documents prior to starting the meeting and sharing your screen.
Secure your webcam on your computer to make sure it's stable and won't move around.
Choose a location with adequate lighting. If you're sitting directly in front of a window, try moving to another spot; otherwise, your webcam may only capture your silhouette.
Position your webcam so that your entire face fills up at least half of your webcam viewer.
How do I test my connection before the meeting starts?
Using the computer you will use for the meeting, please visit the following link to test your connection:
http://admin.adobeconnect.com/common/help/en/support/meeting_test.htm
Host Resources
Attendee Resources