OneSpelman is a Media and Information Technology project initiated to reduce the number of passwords you have to remember.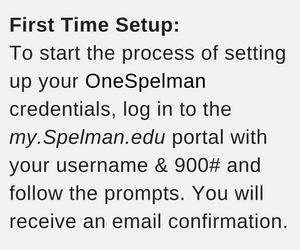 The scope of the OneSpelman project will expand the single sign on (SSO) service and migrate computing resources to one domain using a phased approach. Once the OneSpelman project is done, you will be able to use one username and one password to access most all enterprise campus applications and computing resources. This will not impact your access to Banner INB/PROD.
What does Single Sign On (SSO) mean?
By definition, Single Sign-On (SSO) is an authentication process that allows a user to access multiple applications with one set of login credentials (one username and one password). Your one set of login credentials has been coined OneSpelman.

What are my OneSpelman credentials?
Your OneSpelman username is the name to the left of your @spelman.edu email address. Your new OneSpelman password is what you will create on September 9th when the mySpelman portal migrates to OneSpelman. To begin the process of creating an  OneSpelman password, you will log into the my.Spelman.edu using your username and 900# (ex. atest/900222222)). Next follow the prompts. You will only need to do this once.
What is happening this academic year beginning August 2016?
To support password management, we request you enter a personal non-Spelman email address into Banner. It should be one you frequently use. This will ensure you are able to reset your own Spelman password beginning September 9. If you should ever forget your password. A temporary password will be sent to your personal non-Spelman email account (on file in Banner). View How to Enter a Personal Email Address into Banner.
mySPELMAN MIGRATION TO ONESPELMAN & PASSWORD MANAGEMENT | SEPTEMBER 9
Phase 2 of the OneSpelman project will begin on September 8th at 11:59 p.m. when MIT will reset your mySpelman portal password to your 900#. When you attempt to log into the portal on September 9th with your username and password (your 900#), you will be directed to a new screen to create a password profile in the portal which includes answering security questions and establishing a new password.
Once completed, your username and new password will be known as your OneSpelman credentials.
OFFICE COMPUTER MIGRATION TO ONESPELMAN | BEGINNING SEPTEMBER 12
On September 12th, MIT will begin moving office computers and Spelman laptops to the OneSpelman domain and will update the following software:
MAC Operating System to El Capitan
Office Suite software to Office 2016
 Please refer to the building schedule for the date your computer is scheduled to be updated. Once your computer is updated, you will log on using your new OneSpelman credentials.
Where will I be able to use my OneSpelman credentials?
You will be able to use OneSpelman credentials for all OneSpelman capable computing resources and enterprise applications across campus such as:
mySpelman Portal – access most all enterprise applications using single sign-on (e.g., Banner SSB, Webmail, RMS-Housing, SpelFolio, Moodle, Techsmith Camtasia Relay, Lynda, etc.)
Office Computer
Spelman Laptops
Smartsheet
Office 365
VPN
Wireless (enabled November 2015)
Instructor Stations (beginning December 2016)
How will my personal email address be used?
The personal email address will be used so you can reset your own password beginning September 9 using a new Self Service Password Reset tool. This means that if you ever forget your Spelman password or when your Spelman password expires in 180 days, a temporary one will be sent to your personal email address that will prompt you to reset your Spelman account. The assumption is you are not able to get into your Spelman email because you either forgot your password or your password expired so a personal one must be used. 
Besides the office computers and mySpelman, what else is being affected by the One Spelman migration?
Password Management and Self Service Reset will be enabled September 9th through the mySpelman portal.
Instructor computer stations in the classroom will be enabled beginning December 2016. More info coming soon…

The Wireless infrastructure was updated November 2015.
Password Management and Password Complexity Requirements
Your One Spelman password will expire every 180 days. The new password management tool will allow you to reset your own password once it approaches expiration or if you forget your password without assistance from the MIT Service Desk.
Your new password must be 8 characters and consist of at least 3 of the following 4 character sets:
Lowercase alpha characters (e.g. a, b, c, d, e)
Uppercase alpha characters (e.g. A, B, C, D, E)
Numbers (e.g. 1, 2, 3, 4, 5)
Special symbol or punctuation characters (e.g.  ! @ # $ % & * _ + ~ . ,>)
What will I use to log into the instructor station in the classroom?
Temporarily, the instructor station in the classroom will automatically log in once you tap the keyboard. This means you will not need to log in with your username and password until the OneSpelman project is done. 
How will I know that my application is OneSpelman capable?
Use your One Spelman credentials wherever you see the One Spelman logo.
I keep getting the security questions screen after I've already selected my questions and provide answers multiple times. What do I do next?
After completing your answers to the security questions, please select SAVE underneath the last question to save your answers.
I cannot connect to Wifi on my laptop, phone or tablet while on campus?
Open your Internet connections and forget the network (whichever network you typically use, i.e. SpelFS or Spelmanite). Search for available networks and re-connect to the network you use and input your new OneSpelman credentials.
---
Questions? Contact the MIT Service Desk
Phone: 404.270.5400 | Email: help@spelman.edu